Nov 16, 2015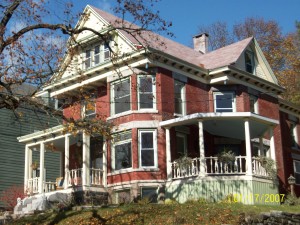 Preserve Our Past Nominates Schafsteck Family for Preservation Award
Preserve Our Past, Little Falls, has announced that its fall 2015 award for excellence in historic preservation has been awarded to Ramona and Kurt Schafsteck of Cherry Valley for their work on the 1890 Queen Ann residence at 14 Burwell Street, Little Falls.  This project was completed in nine months and involved returning the building to a one family configuration, restoring the original floors, applying period color paint to reconditioned original plaster walls, and installing period reproduction lighting fixtures throughout the home. Cooking, laundry, and bathroom facilities were upgraded to make it a satisfactory contemporary home.
Because POP uses only exterior restoration projects as criteria for this award, the Schafsteck's outside efforts were the main considerations.  The semi-circular side porch, an important characteristic of Queen Ann buildings, was restored with custom made period spindles and appropriate columns discovered in an area salvage.  Lighting fixtures on both the side and front porches are of a correct design.  The cut stone steps flanked by massive side supports were retained and enhance the massive feel of the structure. Victorian paint colors for exterior trim were chosen which included a blue ceiling for the side porch which the first family thought would enhance the outdoor atmosphere. Under eave brackets and drops  from earlier architectural styles  were retained
The Schafstecks gained their initial expertise in preservation by restoring their 1860 Cherry Valley farmhouse and dairy barn which currently serves as their dog grooming and boarding business.  Little Falls will be happy to know that this diligent, energetic couple of preservationists will soon be beginning their third project at the green Victorian house at 36 Burwell Street, working hard to preserve yet one more of Little Falls' architectural treasures.
Submitted by: Nan Ressue, Pres.